A Few Days [Final] [Mickydoo]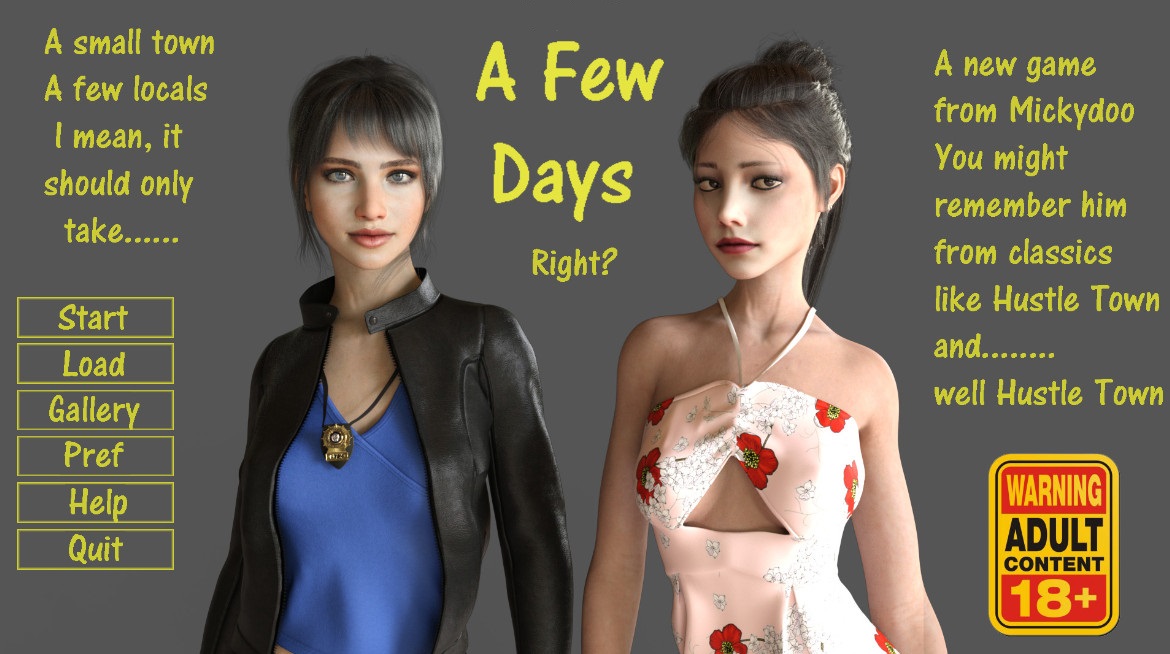 Updated: 02-November-2022
Genre: 3DCG, Male protagonist, Virgin, Animated, Small tits, Vaginal sex, MILF, Anal sex
Censorship: None
Developer/Publisher: Mickydoo
Version: Final
OS: Windows
Language: English
Size: 2.69 GB

About This Game:
You are a Private Detective, you scored the easiest case in the world. All you have to do is sit in
a sleepy town and wait.
On your first day of what you believe is doing nothing and getting paid for it, you get roped into doing a little bit of private detecting for someone, which should only take a few days. Hence the name of the game.
Once word gets around that there is a Private Detective in town, a few people start showing up with their petty small-town problems, none of them can afford to actually pay what a Private Detective normally charges, but one by one you keep getting sucked into it, realizing slowly that all is not what it seems.​
Changelog: Final
Nearly 300 images
Shit ton of animations
Three sexy scenes, it will prompt you to save before each
There is animation glitch before the court scene, don't shoot me, I tried seven ways from Sunday to remove it
I hope you all decide to stick around, I have already laid the foundations for a another game.
Changelog: Final Part 1
The ending part one, the final numero uno, the first of the last……..
327 images, heaps of animations, aint going to tell you much cos of spoilers, go forth and play you deviant little bastards,.
BTW – there is cheat link on the map page in case i fucked up, if all the maps are blanked out and you are stuck click on it,
There will be one more ep, possibly short, an epilogue so to speak, it will contain different endings so its up to you where the MC goes and who with.

AFewDaysComplete-pc.zip

AFewDaysComplete-pc.zip

AFewDaysComplete-pc.zip – 2.7 GB