Diabolical Dr. Diggler [Fugue] (Stories,Comics and Games)
Adult Porn-Game
NFO
Update: 7, August 2016
Genre: all sex,Mind Control , Comedy,Comics Games
Censorship: None
Developer / Publisher: Fugue
Platform: PC / Windows
Version: 0.4
Publication Type: Original (licensed)
Language: English
Description:
Welcome to early release version 0. 4 of Dr. Diggler!
Added content includes:
redone to use updated Ganesha iStory engine — so, better behaved on smaller screens
added Level 1 Tutoring sequence
added two Level 1 Chat sequences
added Level 1 Call Dad sequence
added three segue sequences from Level 1 to Level 2 after you pass the first exam
added partial Level 2 (with some 7-10 new sequences, depending on how you count them)
added experimental Index page to see how many major paths you still need to discover, and to revisit paths you've already completed if you wish to
redid a number of the cruder early images to make them cleaner (not all yet, just the worst)
Upcoming content/features include:
adding an option to request Patricia to model lingerie that you buy — right now you can buy clothes (in level 2, not yet in level 1), but not do anything with them after that
at least another 5 sequences in Level 1
at least another 21 or more sequences in Level 2
Levels 3, 4 and 5, each one sexier than the previous, until we finally learn if Dr. Diggler gets away with all these terrible but titillating things that he does . . .
I got excited while drawing the plot-maps for levels 1 and 2 to organize for this release, so I expect to spend the next couple months continuing on this iStory before going back to the "Heavy Petting" iStory.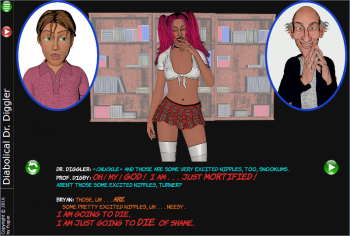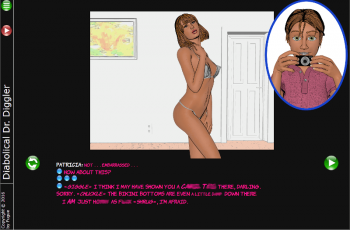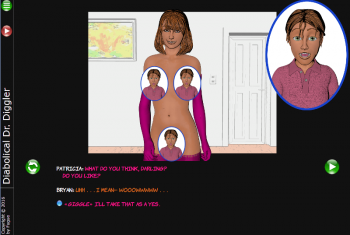 Download file – 67.4 MB

Download file – 67.4 MB