Battle for Luvia: Armored Romance v0.15e [Seventh Vixen]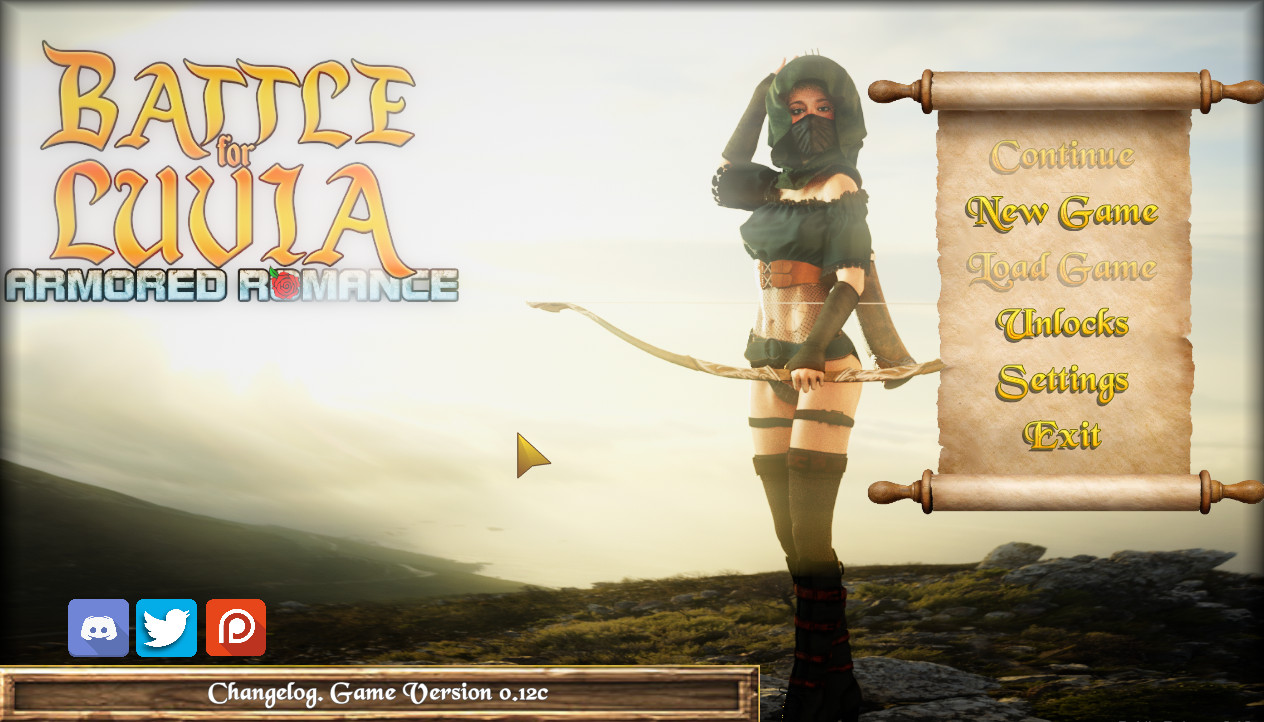 Seventh Vixen is creating Adult video game (18+)
Updated: 05-December-2020
Genre: 3DCG, Animated, Male Protagonist, Multiple Endings, Anal Sex, Oral Sex, Vaginal Sex, Creampie, Titfuck, Teasing, Handjob, Group Sex, Interracial, Voyeurism, Lesbian, Milf, Cheating, Exhibitionism, Prostitution, Corruption,Adventure, Combat, Dating Sim, Humor, Management, Point & Click, Romance
Censorship: None
Developer: Seventh Vixen
Version: 0.15e + Walkthrough
OS: Windows 32/64
Language: English
Size: 3.08 GB
About This Game:
You play the role of Sir Patrik of Akros, a charismatic, handsome and middle aged (for the times) Knight that set by bonds of loyalty and family to the new Countess of Kathia, is bound to gather the fealty of the vassals of his liege, cajole with the outer counts, and overthrow the Duke of Luvia.
It will not be only a path of conflict, choices of whom to trust and whom to make a head short, but will let the player enjoy the power fantasy of the Middle Ages, using the lesser and being used by the higher, both for power and for pleasure. In your treacherous journey among medieval politics, nothing will stop you from romancing and lay with any woman that is put in your way, for lust, love or political interest. Not only nothing stops you: Is part of your mission.​
v0.15.e Changelog:
-28 stills remastered on Prologue
-Some little fixes
Fixes on 0.15.d from 0.15c:
-Fixed the temporal names on conversational options on the Extra Pirate Fun.
-Some fixes on lateral combat.
-Fixed all (I guess) possible story inconsistencies in Hartlepool, forcing the player to progress in the Fortress storyline before finishing Hartlepool Main Story
v0.15
40+ animations
200+/- fun times stills
300+ action packed stills
100+ more stills
Specially animated cutscenes and new systems. (combats, tactical map choices, 3d dungeon crawler..)
2000+ new dialogue lines (total around 13.000 now)
In Detail:
Full Canary Trail Warpath (with 3 main paths and more than 16 variations depending on your choices) and rewards related to it.
2 more of the 3 Acallarian Mercs Quest resolutions (One was in the Diplopath)
All Hartlepool main story resolutions for all paths (Belinda, Dolce, Report to Irena, with special scenes here and there…)
Remember cutscenes active on Hartlepool Fortress for all scenes not available anymore.
Meanwhile at Grassmere special scene.
Diverse important choices and Great diversity on alternative gameplays.
And the polled extra scenes:
Hannah Content with extra of marzapan.
Little Extra Diplopath Pirate Cove fun.
Extra details:
Varied UI improvements and new experimental option.
+7 different path-trophies between all paths and choices.
-New documents (may requiere a new gameplay)
-New Resources
2 Liliana remastered animations
Important fix: Finally some sounds not playing after loading, working again.

Battle_for_Luvia_Armored_Romance-015e-64Bits.zip
Battle_for_Luvia_Armored_Romance-015e-32bits.zip
Full_Walkthrough_Battle_for_Luvia.pdf

Battle_for_Luvia_Armored_Romance-015e-64Bits.zip
Battle_for_Luvia_Armored_Romance-015e-32bits.zip
Full_Walkthrough_Battle_for_Luvia.pdf