Wild Life – Build 21.10.2021 Patreon [Adeptus Steve]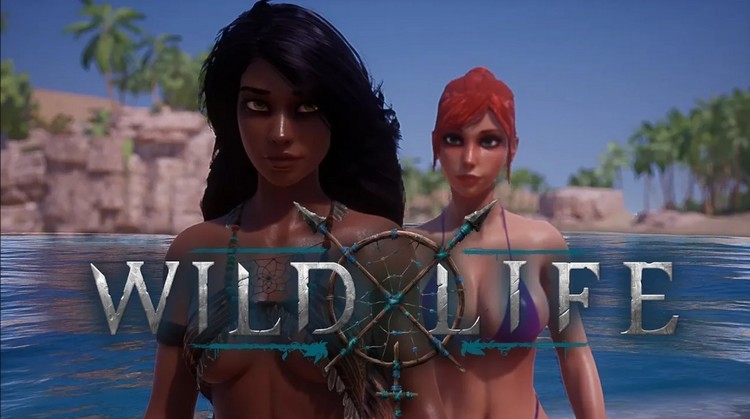 Adeptus Steve is creating Wild Life – An Adult RPG
Updated: 08-October-2021
Genre: 3D, Action, ADV, Vanilla,Anal,Blowjob, Adeptus Steve,Patreon adeptussteve,Deepthroat ,Patreon Game, Threesome, Masturbation ,Virtual reality,Monster, All sex,Fantasy,Sandbox, Sci-fi, Titfuck
Censorship:None
Developer/Publisher: Adeptus Steve
Version: Build 21.10.2021 Patreon
OS: Windows 64Bit
Language: English, Spanish, French, Portuguese (Brazil), Polish, Russian, Japanese, Chinese (Simplified) and Korean
Size: 11.95 GB (Unpacked 20 GB)
About This Game:
In a world very different from ours life was relatively peaceful between the tribal people in touch with the lush nature around them and the creatures roaming the woods and vast landscapes. The balance shifted when foreigners from different worlds worlds discovered the unspoiled environment and its inhabitants. Rogue criminals and vagabonds came to seek fortune and make a living by hunting and killing the majestic creatures and searching for rare, precious materials. Not only criminals developed an interest for the world, noble scholars started studying the world. They document and research the creatures and tribal people looking for ancient relics, witnesses to the times that were.
Become the heroine Maya – strong, beautiful and able to call upon her wings, her tribal heritage – in this gripping Adult Action-RPG. Roam the world from fertile forests to dry and sun-soaked deserts, spread your wings and cut through the skies of a world torn by greed and vanity. Find your own way to ensure your survival and embrace the possibilities of fighting and sex.
Maya's story is just the beginning. As development continues there will be more characters of different factions for you to experience.
Changelog: Wild Life – Build 21.10.2021 Patreon
Additions:
• Added over 50 new sandbox sex animations, see the full list here
• Added new character: Ziad
• Added new character: SheyFuta
• Added cucumber in the butt outfit for Maya
• Added tutorials
• Added new Wild Life level blockout
• Added hidden preview of a new halloween themed outfit to the new blockout level
• Added localizations for Spanish, French, Portuguese (Brazil), Polish, Russian, Japanese, Chinese (Simplified) and Korean
• Added toggleable auto advance feature to dialogues (on by default)
• Added time taken statistic to rating screen (does not affect rating)
• Added gamepad support to main menu (except options) and in-game UI
• Added SSGI (Screen-Space Global Illumination) toggle to graphics settings (off by default)
Improvements:
• Resolved reaction voice spam when character is on fire
• Various improvements to animations
• Various improvements to dialogue
• Various improvements to level models and materials
• Various improvements to sounds and music
• Various improvements to characters and physics
• Various improvements to character movement
• Resolved AI walking sideways in certain circumstances
• Resolved crash when double-clicking an item in the inventory
• Resolved 2 instances where a character's legs would twist
• Resolved AI's not losing aggro
• Resolved NPC inspection not working while crouching
• Potentially resolved crash on cutscene start
• Resolved talking animation stopping too early in cutscenes
• Resolved characters floating in Jadeen cutscene when player was crouching
• Resolved sounds not stopping when pausing game
• Removed old jungle blockout level as it was interfering with our development
Windows 7 Workaround:
TL;DR if you get 'xinput1_4.dll' error, make a copy of 'xinput1_3.dll' in 'C:\Windows\System32' and rename it to 'xinput1_4.dll'.
And if you don't want to put that 'xinput1_4.dll' in your system32 folder, you can put it next to 'WildLifeC.exe' or 'WildLifeC-Win64-Shipping.exe' instead.

2021.10.20_Shipping_Full_Build_1.part1.rar
2021.10.20_Shipping_Full_Build_1.part2.rar
2021.10.20_Shipping_Full_Build_1.part3.rar
2021.10.20_Shipping_Full_Build_1.part4.rar

2021.10.20_Shipping_Full_Build_1.part1.rar
2021.10.20_Shipping_Full_Build_1.part2.rar
2021.10.20_Shipping_Full_Build_1.part3.rar
2021.10.20_Shipping_Full_Build_1.part4.rar