SimBro v1.6 (THE SIMBRO TEAM) [Win,Mac ,Andorid ] – Multi 12
Adult Porn-Game
NFO
Update date: 30, Septmber, 2016
Genre: SLG, ADV, Flash, Big Tits, Big Breasts, Yuri, Lesbians, Straight
Censorship: None
Developer / Publisher: THE SIMBRO TEAM
Platform: Windows / Mac / Android
Version: 1.6
Game Language: English, Russian, German,Italiano, Polski, Espanol, Maguar,Nederlands, Japanese, Turskish, French
v1.6
We updated how bedroom looks. For now it's only first starting 'cheap' variant. So we are looking forward for room upgrades system. Choosing mechanics for it actually we liked the idea from earlier comments. To make separate furniture upgradable. That not only changing the look, but adds more positions to the room, and influence on the quality of the room and client payments.
And what is that wall and part of the corridor on the picture? We reserved it for 'peek' action *wink*
version 1.6 released:
– New scene with Alice for female play. You could wait to catch her in the showers, or just drag n drop her there on the stage plan. Be sure you have at least one thug at your disposal at least (wink)
– Meet James. New crew member for female character chosen by voting poll. Catch him in the bar, then you know what to do next. Since hiring him is free, it should boost the earlier game for female play as Julia does for male play.
– Rare trait for males 'Bouncer'. Adds +10 to security when character is in the proper room, makes them more valuable for protecting your brothel. Does James have it – yes.
– New outfits for males you've seen in the last voting poll added to shop stock.
– The day after first brothel upgrade Alice found you a photocamera. Now you can photoshoot sessions with your girls sitting on the bed in different poses, making an album. So your clients will admire them while choosing a girl to spend time with. Each girl still in your crew with photo in album adds +1 to reputation permanently.
– New background for a bedroom. First variation for a cheap one design. As we mentioned earlier we are going to add upgrade system for it's furniture, that adds new poses and room value.
– Now you can see 'Affinity' parameter on the character sheet.
– Some bugs fixed.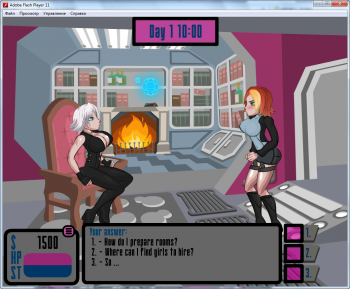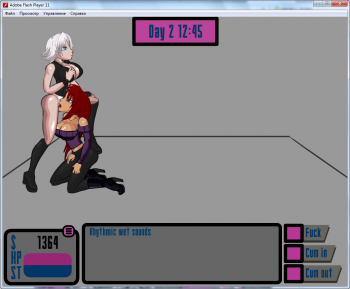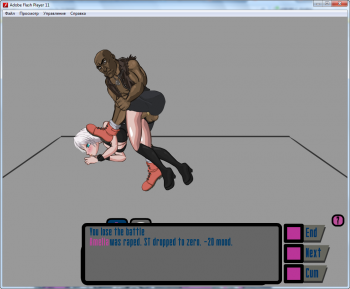 Download file – 74.6 MB

Download file – 74.6 MB