Lust Effect [v0.410+Walkthrough] [Kosmos Games] (RUS + ENG)
Adult Porn-Game
NFO
Release Date: 12, May 2017
Genre: Erotic Adventure, Quest, Visual Novel
Censorship: No
Developer / Publisher: Kosmos Games
Version: 0.410+Walkthrough
Platform: (Windows, Mac, Linux)
Language: English, Russian​
Description:
We present to your attention our new project. This is a game based on the universe "Mass Effect." You can download the first teaser of our game.
The game contains sexually explicit material. You will play a clone of Captain Shepard. His goal – the seduction of women on board the "Normandy".
Lust Affect 0.400 (announcement)
A side mission on the Tuchanka and a planetary battle.
2 new NPCs (Samantha and Grunt).
1 new location and reconstruction of 2 old locations.
2 videos with Jack and Samara.
New sex events with Jack, Miranda, Aria
A small gift for futanari fans.
1 new item in the intimate store.
A new store of old things and 2 goods in it.
The new appearance of the Sixth in good quality.
New situations on Normandy.
At night you can wander around the ship.
2 new magazines.
New option to call a team member in the captain's cabin.
A new suit for Tali.
A new achievement for Jack.
The store now displays the amount of money on the account.
Fixed some sprites.
Added the ability to skip the intro and the first day.
Now you need to perform all the actions until the 22nd day.
Maybe something else
At the moment I'm writing the walkthrough of all sex events.
All the old English dialogues were edited by an interpreter! (Thanks to Ilford Harman)
New dialogues will be translated in the near future.
English is not my primary language. I'm sorry for the mistakes.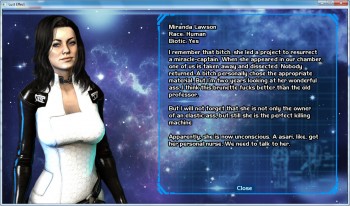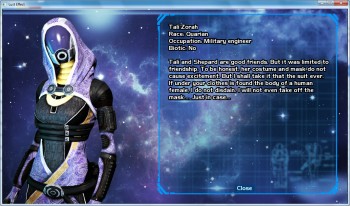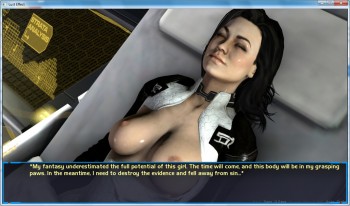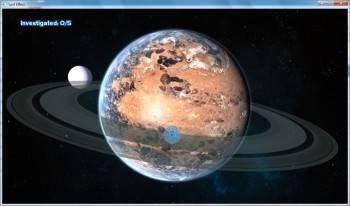 Download file – 311.2 MB

Download file – 311.2 MB