Lab Rats – Version 0.1.1 (Vren)
Adult Porn-Game
NFO
Updated date: 10, December 2016
Genre: , Erotic Adventure, Incest, Threesomes, Mind Control,
Censorship: None
Developer / Publisher: Vren
Platform: PC / Windows
Version: 0.1.1
Language: English
Description:
Lab Rats follows the story of you, the main character, during a summer term working in a small biology lab as a lab assistant. You're a third year chemical engineering student, and just as you are preparing to kick back and relax you are told you've been granted a lab assistant position. While the work is interesting, you've become more interested in the equipment and knowledge this gives you access to. The lab seems to have made significant progress in the delivery of several mind altering substances, and you are the only person who has realized it's potential so far. You will have access to the lab for four months, and it's up to you to figure out how to make the best use of it.
47 000 words of dialog. If I wrote the entire script like a normal book it would be classified as a novel.
11 Major sex scenes, about 2 with each character. These are important scenes that require progression in the game to reach, that have multiple paths through them depending on the level of corruption of the girl, and that help corrupt the girls further.
Multiple minor sex scenes. These are minor scenes that become possible as a girls corruption rises, but does not impact their corruption further.
40 sexy images used in 4 of the major scenes, plus normal character images. These are being added as quickly as possible, and eventually all scenes, major and minor, will have multiple images to go along with them.
A complete lack of a real ending.
A huge pile of bugs and spelling mistakes, that should grow smaller (or at least different) as time goes on.
And a few minor bug fixes and improvements in v0.1.1.
Characters
You – A third year chemical engineering student, brought onto into the lab to help keep the equipment working.
Nora – The lab director. Science is her passion, and she runs her small lab with enthusiasm.
Stephanie – A graduate student and fellow lab assistant. She has been Nora's right hand girl for years.
Mom – Your mother. Without your father she works long hours to make sure you and your sister can both earn a university education.
Lily – Your younger sister. She also goes to the same university for History, but unlike you has the summer off.
Alexia – A classmate from last semester. She seems to be interested in seeing you more over the summer.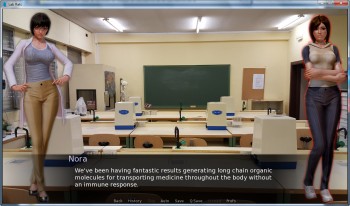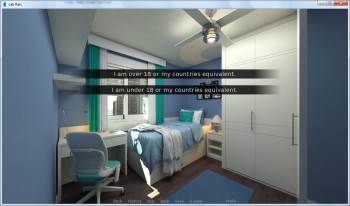 Download file – 139.7 MB

Sorry! Keep2Share.cc FORBIDDEN EXTREME CONTENT GAME