Town of Passion [v0.6] [Sirens Domain]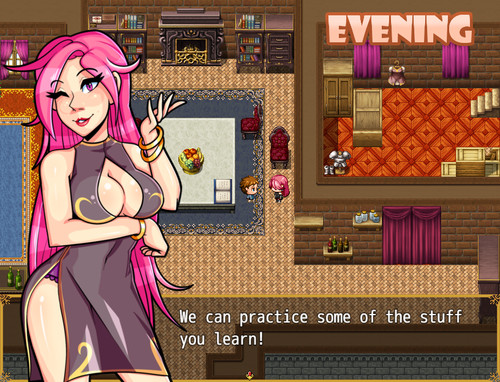 Adult Porn-Game
NFO
Updated: 15,March , 2018
Genre: 2DCG, RPG, Animated, Adventure, Seduction, Puzzle, Oral Sex, Handjob, Footjob, Adult Game,Porn Game
Censorship: None
Developer/Publisher: Siren's Domain
Version: v0.6 + Walkthrough
OS: Windows
Language: English
Description:
Town of Passion is an adventure styled RPG, where you play as a common villager living in the small town of Valencia; a town full of many secrets. After stumbling into an unknown realm, the villager learns that there's an important role for him to fulfill: utilize Pleasure to save those that watch over Valencia.
The game play is a mix of Relationship Building, Exploration, Training, and Puzzles!​
Changelog:​ v0.6
New Bust:
Scenes added:
Rose Anal
Rose Cupid
Raylene Bar Grind*
* – Scene comes with two variations
Animated:
Rose Anal
Rose Cupid
Raylene Bar Grind
Rayline Reverse Cowgirl (Remastered)
Costumes:
Rose Angel
Mom Nude
Rose Questline
Rose's main questline is complete. Additional costume becomes obtainable after 3-hearting Rose. (See 'Trial Gates')
Raylene Questline
Raylene's storyline has been continued. 3-hearting isn't possible yet but will be soon! (Sex variant of new scene will be saved
until it makes more sense with Raylene's plot progression)
Trial Gates
Those mysterious doors found in and outside of Valencia are beginning to show their purpose. When Rose hits 3-hearts, the door
associated with her will become active. This will take you to the most challenging version of her pleasure mini-game and will
give you a nice reward for completion!
Hint: Remember Rose's Storage had an oddity in it
Scene Player Re-Revamp
The experimental plugin in 0.5.5 helped save on file size but left a nasty issue where some higher frame rate scenes would not
be read by the game. Old scene player was re-enabled but I've made tweaks. There's a slightly longer load before most scenes
but now, scenes load more reliably! More scenes will be adjusted to this style over time!
Misc
-Adjusted Rose's moan loops
-Added random Mom cut-scene (Rainy days are so boring…)
-Rose's Halloween costume is now selectable if Halloween episode is complete
-Other misc changes/improvements

Download or WATCH ONLINE – 707.8 MB

Download or WATCH ONLINE – 707.8 MB