Roundscape Adorevia – Version 3.0 (Kaliyo, Red Dakkar)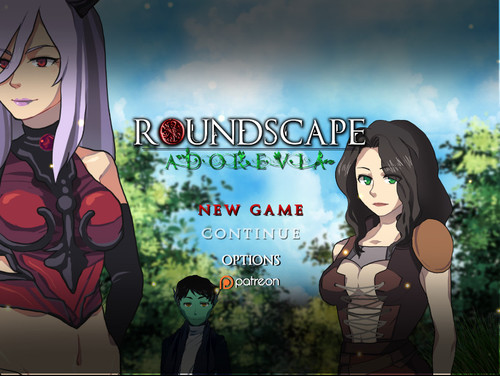 Adult Porn-Game
NFO
Updated: 03, December, 2017
Genre: RPG,Vaginal Sex, Oral Sex, Anal Sex, Group Sex, Adventure, Big Tits, Fantasy, Combat, Patreon Game,Kaliyo,Oral, Anal, Extreme, Exhibitionism, BDSM, Futa,Shemale, MILF, Prostitution, Interracial
Censorship: None
Developer / Publisher: Kaliyo
Platform: PC / Windows
Version: Roundscape 3.0 Release
Language: English
Size: 4.18 GB
So the game starts out in one of 5 ways of your choice, eventually you end up in a small town and go on a quest to prevent some evil being. You can choose your gender and there are some exclusive scenes for each gender. The world of Adorevia is one fraught with danger, but also adventure for those brave enough to seek it. Walk the lush forests, see the magnificent dwarven city-states, and help stop a terrible threat that could spell doom to countless innocents as you head out on your quest! Of course, along the way, you'll find other brave souls willing to share in your adventures, and perhaps, your bed.​
Change-log v3.0
– Bon Guards added to the game, including a new castle NPC!
– Dwarf Guards added to the game, including a new castle NPC!
– Nexilim Guards added to the game, including a new castle NPC!
– Gallery updated! The majority of the E-Scenes finally made it into the gallery!
– Engine Update! We've updated the MV Engine from 1.3.1 to 1.5.1 which results in a better perfomance and more possibilities in terms of pixi integration!
Thanks to this as example I was able to solid 60 FPS on my low end device for testing, before the update it was struggling to keep 30 FPS.
– New UI! We've reworked both the whole ingame menu + the conversation design! Yay!
– New Class: Eldritch Archer
– Information Box! You can now right-click specific words to learn more about them! Ever wondered what a Nexilim is? Or a Paladin? Just right-click the yellow words.
– Hide GUI! Annoyed because the text/windows are blocking parts of the scene? You just want to enjoy a neat picture? Just press F to hide the User interface, press F again to make it re-appear.
– Difficulty System! We've added four new difficulty level to the game. You can change them anytime in the ingame menu.
Easy: If you just want to enjoy the story.Normal: A balanced experience.Hard: A nice challenge.Impossible: For tryhards like me.
To make sure there's even a chance to beat the game on hard or impossible we came up with new systems that completly change the game.
– New Game System: Item Augmentations!
Orbs, Glyphs, Spheres and Marks allow you to customize armors and weapons and thus your playstyle! With 33 in total, and 4 slots per weapon as example there are endless combinations to create your own overpowered weapon!#
They don't only change the attributes but also apply effects, change name and color of the item and some even completly change your attacks!This system is probably quite unbalanced, but hey. It's super fun and we believe this is what RS needed.Every single Enemy has a chance to drop one of them. Orbs are common, Glyphs and Spheres rare and a Mark is very rare.
– New AoE mechanic: We also changed the way many AoE attacks work. Instead of targeting 2-3 random enemies you now can select multiple targets through row and circle indicators.
– New Gameplay mechanic: Barriers. Some Skills and Gems now allow you to cast a shield which absorbs Damage before your actual HP gets decreased from an attack.
– New Gameplay mechanic: Taunt. Some Skills allow you to taunt an enemy.
– Mystic Class reworked: The mystic now uses barriers to protect allies in combat.
– Bit of fun: We've added several new mini-Npc's all around adorevia with some fun lines. Also you can find a version of " The Lecherous Nexilim Maid" in Adorevia. A fun small book! You all know where we got this Idea from, haha.
– Some secret stuff.
Stay tuned for Uprising Episode II and Emek's Rest Part II. One of them will be released this month, the other one early to mid january!

Download or WATCH ONLINE – 750.0 MB
Download or WATCH ONLINE – 750.0 MB
Download or WATCH ONLINE – 750.0 MB
Download or WATCH ONLINE – 750.0 MB
Download or WATCH ONLINE – 750.0 MB
Download or WATCH ONLINE – 526.6 MB

Download or WATCH ONLINE – 750.0 MB
Download or WATCH ONLINE – 750.0 MB
Download or WATCH ONLINE – 750.0 MB
Download or WATCH ONLINE – 750.0 MB
Download or WATCH ONLINE – 750.0 MB
Download or WATCH ONLINE – 526.6 MB