Roundscape: Adorevia [version 1.8 MV] (Kaliyo, Red Dakkar)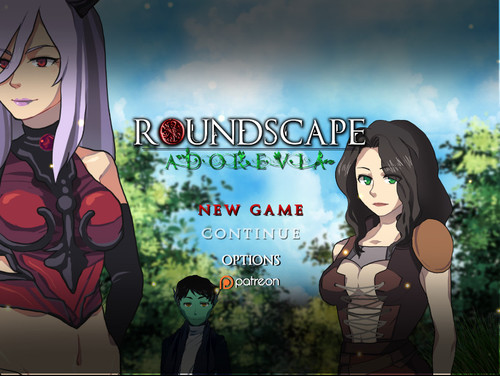 Adult Porn-Game
NFO
Update Date : 17 November 2016
Genre: jRPG, Adventure, Big tits, Fantasy, Oral, Anal, Group sex, Fantasy
Censored: No
Publisher: Kaliyo, Red Dakkar
Platform: PC / Windows
Publication Type: License
Tablet: Not required
Version: 1.8 MV
Language: English
Size: 3.56 GB
Description:
Roundscapes: Adorevia is a new erotic fantasy game brought to you by Kaliyo and the Red Dakkar, smut author extraordinaire! The world of Adorevia is one frought with danger, but also adventure for those brave enough to seek it. Walk the lush forests, see the magnificent dwarven city-states, and help stop a terrible threat that could spell doom to countless innocents as you head out on your quest! Of course, along the way, you'll find other brave souls willing to share in your adventures, and perhaps, your bed.
Patchnotes 1.8
Content
– Many Enemies now have a chance to drop health/mana potions
– New Indicator now displays Castle Defense value changes
– New Gallery system! Use the Globe in the player's castle to open the new gallery, we've already added 50 Scenes to it.
– New Perk System! Use the Mirror in the player's castle to open the perk menu.
– The most rare weapons of adorevia now have custom skins in combat!
– You can now hire NPCs for your Castle that help you with improving your castle and your Hero's Skills.
– New Erotic encounter with Katelyn for the Male PC.
– New Sidequest in Yakotin for neutral/evil PC including an erotic scene for both genders.
– New Castle Trainer: Felicia
– New Class: Pugilist
– New Weapon Type: Gloves
– New Class: Swashbuckler
Patchnotes:
– The Castle Throne hall Design has been changed
– Cleaning the castle now works as intended
– Blackscreen fixed when entering the summeredge Pub
– Spiders ATK reduced by 50%
– Enemy Skill "Several Hits" now works as intended
– Noclip Issue fixed after meeting Lady Anza
– The second bounty hunter guild quest has been readded for the MV Engine and now works as intended
– The second Clawyn Companion Quest has been readded for MV and now works as intended
– Clawyn/Tishtyra/MalePC Scene in the Ornesse Pub now works as intended
– The Meredith/Plant Scene in Yakotin works as intended
– Tishtyra now has a weapon when you recruit her
– During the sneak approach on the orc castle there is no longer an orc blocking the way
– Tamasek will no longer appear in the jail if you've decided to kill him
– Accepting the regular erotic scene with the goo girl as male PC it will no longer result in a loop
– Lots of small fixes