Roundscape: Adorevia [version 1.6 MV] (Kaliyo, Red Dakkar)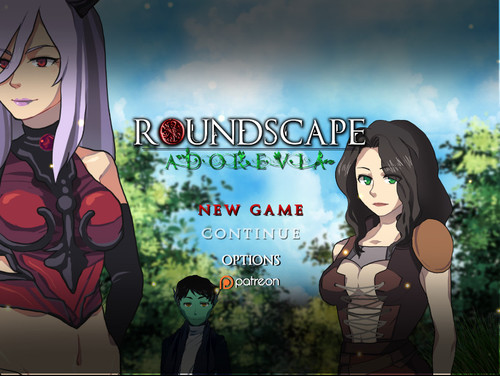 Adult Porn-Game
NFO
Update Date : 02, October 2016
Genre: jRPG, Adventure, Big tits, Yuri, Fantasy, Oral, Anal, Group sex
Censored: No
Publisher: Kaliyo, Red Dakkar
Platform: PC / Windows
Publication Type: License
Tablet: Not required
Version: 1.6 MV
Language: English
Size: 3.48 GB
Description:
Roundscapes: Adorevia is a new erotic fantasy game brought to you by Kaliyo and the Red Dakkar, smut author extraordinaire! The world of Adorevia is one frought with danger, but also adventure for those brave enough to seek it. Walk the lush forests, see the magnificent dwarven city-states, and help stop a terrible threat that could spell doom to countless innocents as you head out on your quest! Of course, along the way, you'll find other brave souls willing to share in your adventures, and perhaps, your bed.
1.6 MV Release (Updated , 02, October 2016)
New Content
New Maps added south of Yakotin including some interesting encounters
New Castle NPC: Tarric – This experienced minotaur blacksmith can be recruited in Novos. He'll supply your guards with armors and weapons and makes for some interesting dialogues if you want to learn more about the minotaur lore of the game. If you have Seren recruited it may result in an erotic scene for both genders can watch.
New Sidequest added outside of Yakotin. A bit hidden you can find a young goblin girl and her huge protector living far from civilization. Will you encourage the goblin girl to explore the world, should she stay with her protector or will you play matchmaker resulting in an erotic scene with quite the size difference.
A new companion Quest for the Succubus has been added. The Inquisition is hunting down demons all over Elarewyth and were able to capture one of her sisters. This Scene includes an erotic scene for both genders.
We've added the first exclusive quest for the soldier origin to the game. Travel across Adorevia and put together a team that will defend Summeredge against the forces of evil. This Quest includes a "family friendly" erotic scene for both genders and many variations.
A new, quite messy, Erotic Encounter (Post Act 1) has been added to Ornesse. You need Ruksana in your active group and a medium high affection level with her.
New Erotic Scenes
(From now on we'll list the new erotic scenes for every new patch, it makes it easier to find them and report possible bugs. Especially for hidden erotic scenes this should be useful)
Ruksana X Nexilim Gangbang (Ornesse)
Male PC X Tilanese Silblings (Ornesse) (Soldier Origin Only)
Female PC X Tilanese Silblings (Ornesse) (Soldier Origin Only)
Male PC X Succubus X Inquisitor (Quest Area)
Female PC X Succubus X Inquisitor (Quest Area)
Goblin Girl X Treant (Valorn)
Seren X Minotaur Blacksmith (Player Castle)
Bugfixes
– Popup Error removed from the male paladin quest ending.
– You can now obtain the paladin class as intended.
– The choices during the first erotic encounter with meredith no longer merge, which resulted in a loop. (In MV choices that are right to each other in the program window are merging, so if you encounter wierd choices please let us know where)
– Clawyn can no longer dual wield bows.
– You can no longer ask Zent for his opinion during the Slave HQ assault unless he's an active ompanion.
– The ability "Battlefield Experience" now sucessfully grants all allies 35 TP.
– The ability "Shadow Strike" now deals damage as intended.
– The banther between meredith and the succubus in the summeredge university no longer results in a popup error
– The choices after you freed Ursula from the pillory are no longer merged.
– Hide Choice Popup during the dialogue with general Titania has been fixed
– Choices during the conversation with Titania are no longer merged
– The Parallax maps during the Meredith/Galhart/PC Threesome have been fixed
– The Showdown in Laroavia, the prelek Lands, will no longer result in a loop due merged choices.
– The Skills shifting Wind, Predictable Moments, and Justice now work as intended.
– The Carys X FemPC encounter in Slinsk will no longer result in a bug due merged choices.
– The bug that resulted from the merged choices during the first calanthe encounter has been fixed
– Succubus / Maiden Scene has been fixed
– Three merged dialogues during the Orc Prison Attack in ACT 2 have been fixed
– The helm of confidence no longer locks the weapon slot
– Entering the Radiant Palace in Yakotin after you've discovered it no longer teleports you to Clawyn's CQ
– You're no longer teleported to the wrong map during the first Assasins Guild Quest
– Headgear and Shields now work as intended and Headgear no locker locks dual wield
– During Carys first quest the bandit will no longer appear dead from the beginning.
– Valor Point Shops no longer result in a popup Error.
– Removed the Perk System again because it resulted in a gamebreaking bug.
– When leaving the Cave that connects Oakshire and Slinsk it no longer results in black spots around the map. Also after you've visited Ruksana's Camp there are no black spots anymore.
– If you decide to kill the warlock because of Ruksana or Meredith's input there is no longer an error popup appearing
– The Corrupted Meredith Stable scene is no longer stuck in a loop