Roundscape: Adorevia 1.5b MV (Kaliyo, Red Dakkar)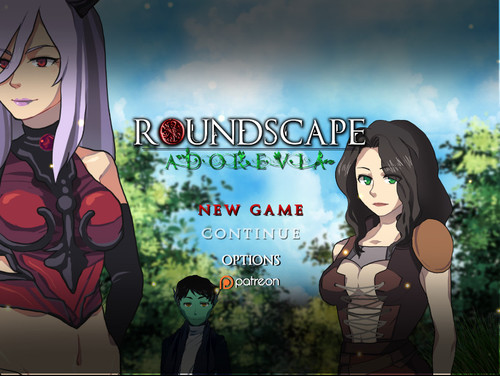 Adult Porn-Game
NFO
Update Date : 5, September 2016
Genre: jRPG, Adventure, Big tits, Yuri, Fantasy, Oral, Tentacles, Anal, Group sex
Censorship: None
Publisher: Kaliyo, Red Dakkar
Platform: PC / Windows
Publication Type: License
Tablet: Not required
Version: 1.5b MV
Language: English
Size: 2.97 GB
1.5b MV Release (Updated 5, September 2016)
Patchnotes
– A new Ruksana Erotic scene which is different based on her corruption level.
– Cache non clears all 2 map transfers instead of 10, this will increase perfomance for devices with low ram.
– We've compressed the parallax maps which results in a small perfomance boost.
– New Map for the castle has been added
– When you leave the warlock tower the overlay image is no longer visible.
– Proper battle background at warlock tower boss.
– The succubus now works as intended (Battle sprite visible, skills working etc.)
– There's no longer a fire inside the tentacle companion dungeon.
– You no longer have access to the skills of all classes.
– Auto Save added to the Game
– Added skills for Inquisitor, Templar and barbarian (custom animations are still missing)
– You can now enter the mines near Ornesse without getting an error.
– General Titania's Room is now correctly displayed.
– The beach and ship tavern are now correctly displayed.
– The rat battler graphic is now facing in the right direction.
– When re-entering PC's room in the templer origin the dialogue won't repeat.
– You can now complete the Church Quest in Oakshire as Male PC.
– The First Mage Guild Quest can now be completed without problems.
– The Tower of Ice Dungeon/Road to Yakotin no longer crashes.
– In the sidequest in Cinkahn where you fall into a cave as fempc the background will now light up as intended.
– You are no longer teleported to a test map when accepting Mayla's Quest during Act III
– You can now exit the crystal cave near Cinkahn without any problems
– You no longer get teleported to an old elven fotress map when entering the Jun House after their third quest.
– The conversation with Meredith's father during Meredith's first companion quest no longer pauses the game.
– You can now obtain the music boy key during seren's quest in Xas.
– Kimono is now bodygear.
– Resurrection potions now work on dead allies.
– Xas City Hall now displayed as intended.
– You no longer get teleported to clawyns companion quest during the dialogue between calanthe and the nexilim elder.
– Ornesse Ritual Chamber now displayed as intended.
– You can now interact with the well to finish the White district quest in Ornesse.
– The last picture during the Meredith x Horse x Male PC scene no longer stucks after the scene.
– The Game no longer crashes when obtaining the golden dildo
– The game no longer crashes when approaching the pub owner in Ornesse for the missing sister quest.
– The two imps in the secret ornesse dungeon bossfight are now displayed as intended.
– Antivenom potion now works outside of battle too.
– Meredith is now on the correct position on the map when doing the Meredith X Imp gangbang encounter.