Private Community [v0.0.75] [Boomatica]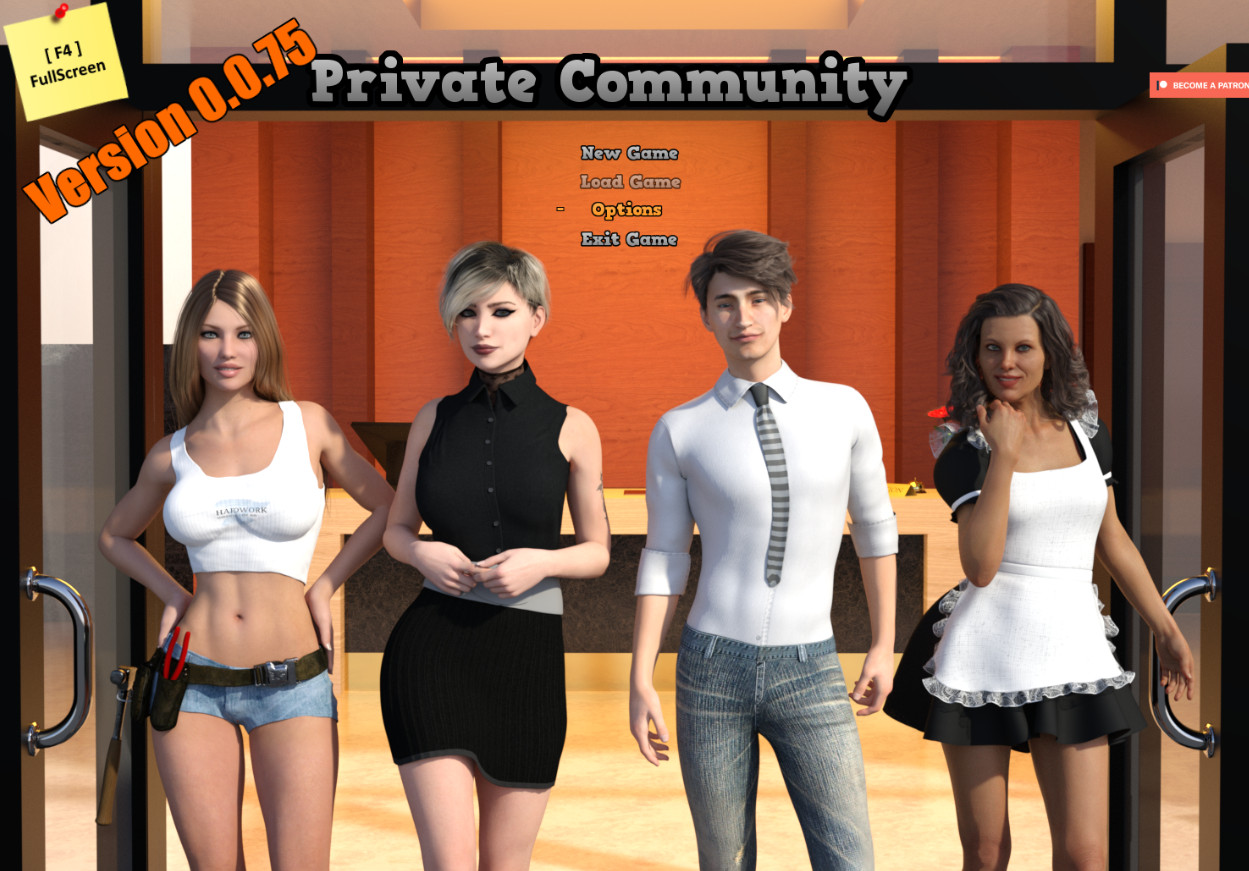 Adult Porn-Game
NFO
Updated: 24-September-2018
Genre: Visual Novel, Dating Sim, Tycoon, Corruption, Boomatica,Spying, 3dcg, Adult Game,Porn Game
Censorship: None
Developer/Publisher: Boomatica
Version: v0.0.75
OS: PC
Language: English
Size: 1.73 GB
Description:
Your Distant Uncle dies and leaves you his unfinished resort. The resort is quite different from others around…
Your uncle wanted to build a resort for people to actually move to and live out their lives.
So It's now up to you to finish your uncles legacy by upgrading the resort, increasing it's reputation leading to more and more residents wanting to live there. In doing so you'll increase your daily income which can be put back into the resort or you can use the money for your own perverted desires. By making sure each resident is happy you'll be able to learn more about them and their backstory.
You'll be able to talk to them, give them gifts and invite them to different activities.
In doing so their affection towards you will grow and you'll be able to slowly bring them out of their comfort zone leading to some very erotic events.​
Change-Log v0.0.75
I'm using a different "Save Plugin" in the "Mac" builds.
This should fix the Permission issues everyone was having.
Plugin Changes :
– CacheManager edited (Should help limit the "stuttering")
– NameImputUpgreade (You can now input names with the keyboard)
– PictureChoices (Used when entering a building with more than 1 room)
– MessageHide (Pressing "H" now hides the dialog box)
– SaveDiv (Removed)
UI :
– Dialog box border removed.
– Dialog box Faces updated.
– Dialog box Face (Narrator) removed.
– Choice Box border removed.
– Choice Box Position moved.
– Right Side Panel Removed.
– "Hot Bar" added.
– Map Button added.
– Stats Button added.
– Pass Time Button added.
Navigation :
– Removed the side panel from the game (Was causing a lot of crashes)
– New Map added. (Main overview of the community)
Hollie Level 3 Events :
Morning :
– Reception
— [Hollie] (Level 3 Model added)
— Talk (+5 Images)
— Invite – Beach (+7 Images)
— Admire (+3 Images)
— Never-mind
Afternoon :
– Reception
— Hollie (Level 3 Model added)
— Talk (+5 Images)
— Invite – Beach (+7 Images)
— Admire (+3 Images)
— Never-mind
Evening :
– Reception
— Hollie (Level 3 Model added)
— Talk (+ 5 Images)
— Invite – Beach (+7 Images))
— Invite – Pool (+30 Images)
— Admire (+3 Images)
— Never-mind
Night :
– Hollie's Home
— Knock (+52 Images) (+3 "Animations")
— Peep (+6 Images) (+1 "Animation")
— Leave
Spy Cams :
– Lounge (+7 Images)
– Desk (5 Images)
– Bedroom (+4 Images)
– Bathroom (6 Images)
– Toilet (+5 Images)
Profiler :
– (Level 3 Model added)
PhotoGram :
– (+3 Images)
Messages :
– Morning – 1 new Message (+1 Image)
– Afternoon – 1 new Message (+1 Image)
– Evening – 1 new Message (+1 Image)
– Night – 1 new Message (+1 Image)

Private_Community__v0.0.75__Boomatica.part1.rar
Private_Community__v0.0.75__Boomatica.part2.rar
Private_Community__v0.0.75__Boomatica.part3.rar

Private_Community__v0.0.75__Boomatica.part1.rar
Private_Community__v0.0.75__Boomatica.part2.rar
Private_Community__v0.0.75__Boomatica.part3.rar