Long Live the Princess v0.7.1 – Belle
Adult Porn-Game
NFO
Updated: 29,March , 2018
Genre: Male Protagonist, Mind Control, Incest, Threesome, Lesbian, Patreon Belle,Voyeur, Anal Adult Game,Porn Game
Developer/Publisher: Belle
Censorship: None
Version: 0.7.1
OS: Windows
Language: English
Description:
You live a simple life in a small fantasy town. You possess few talents except that of Truthsaying, the ability to magically tell if someone is lying. One day news arrives that the King is dead of old age and that his daughter, Princess Selena, is coming to your town for her coronation. When a person close to you gets murdered soon after, and you learn that you are the only person who can save the world from an unspecified calamity, things get rather heated.
Serving under a powerful sorceress, you are taught the ability to manipulate people's minds. With this knowledge in hand and a potty-mouthed pixie in tow, you are told to prepare for the arrival of the Princess so that you can seduce her and save the world (the details of this elude you). Until then, however, you must practice. How appealing, then, that this practice means using your magic to seduce as many of the town's girls as possible.
Life is about to become… satisfying.
v0.7.1
Version 0.7.0 of Long Live the Princess contained an unfortunate bug that caused the extremely important map icon not to appear in games loaded from previous versions. Version 0.7.1 fixes this bug. You can find the download links below. The original 0.7.0 post has also been updated, and the old downloads have been removed.
New character (dryad) and her scenes.
Map system implemented for travel outside of town.
New scene for Aldred.
New ability and its training scenes.
Added a new hunting mechanic.
Mystery scene.
Belle may now give you hints to help you discover how to train your abilities.
Fixed a bug where you could get stuck on an empty clue page.
Minor bug fixes and improvements.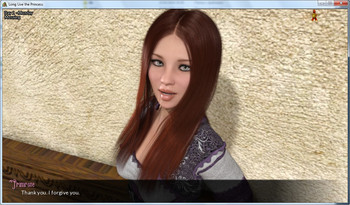 Download or WATCH ONLINE – 324.9 MB

Download or WATCH ONLINE – 324.9 MB