Lida`s Adventures: Episode 2 v0.6 [Terebonkoff]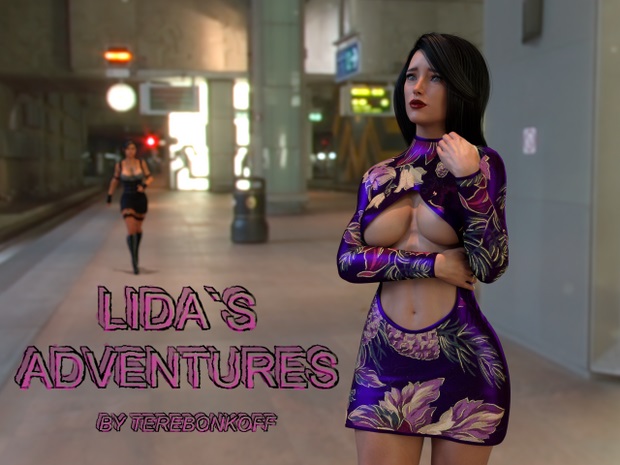 Adult PC Game
NFO
Updated: 06-September-2018
Genre: RPG, ADV, 3DCG, Handjob,Female Heroine,Oral, Masturbation, Terebonkoff,Patreon Games,All sex,Anal, Sexy Girl, Big Tits, Big Ass, Blowjob, Doggystyle, Hardcore Sex ,NTR
Censorship: None
Developer / Publisher: Terebonkoff Game Studio
Platform: PC / Windows
Version: Episode 2 (Version 0.6)
Language: English
Size: 3.20 GB
Description:
This story is about one family couple Lida and Dmitriy. Having lived happily in marriage for 5 years, Dima faced a fortune to get promotion at a new place. It goes without saying , that new job required reasonable changes in their lives, but at the same time a huge house with swimming pool and gym as a bonus. The only shortcoming – they had to leave their native town , friends and relatives for small American town. Also Lida was impatient to leave their rented house for their new mansion. She just had to wait until Dima would be introduced to new work and some details would be settled. But while she was busy with preparing a special dinner honoring that day, happened what she had never imagined, what has changed her life tremendously.
Episode 2 (Version 0.6)
The new version will contain over 250 renders.
Also there will be such scenes: Continuation of the story line with Sam (the scene will contain several stages), scene with a clown in a circus (Lida will be as an assistant), scene in the art classroom, and of course, the continuation with the participation of the officer Selina (for this story have made a big accent, you are waiting for incredible adventures) and much more.
The new version will contain a huge number of new locations, the game world is getting even bigger! New locations will please you with the richness of quests. Well, in the end I would like to add, in this version the emphasis is on the main story of the plot of the game! I think you will like it, dear friends. I will not open all the secrets, you will see everything by yourself.

Lidas_Adventures__Episode_2_v0.6__Terebonkoff___.part1.rar
Lidas_Adventures__Episode_2_v0.6__Terebonkoff___.part2.rar
Lidas_Adventures__Episode_2_v0.6__Terebonkoff___.part3.rar
Lidas_Adventures__Episode_2_v0.6__Terebonkoff___.part4.rar
Lidas_Adventures__Episode_2_v0.6__Terebonkoff___.part5.rar

Lidas_Adventures__Episode_2_v0.6__Terebonkoff___.part1.rar
Lidas_Adventures__Episode_2_v0.6__Terebonkoff___.part2.rar
Lidas_Adventures__Episode_2_v0.6__Terebonkoff___.part3.rar
Lidas_Adventures__Episode_2_v0.6__Terebonkoff___.part4.rar
Lidas_Adventures__Episode_2_v0.6__Terebonkoff___.part5.rar