House Party 0.11.1 (Beta) [Eek! Games]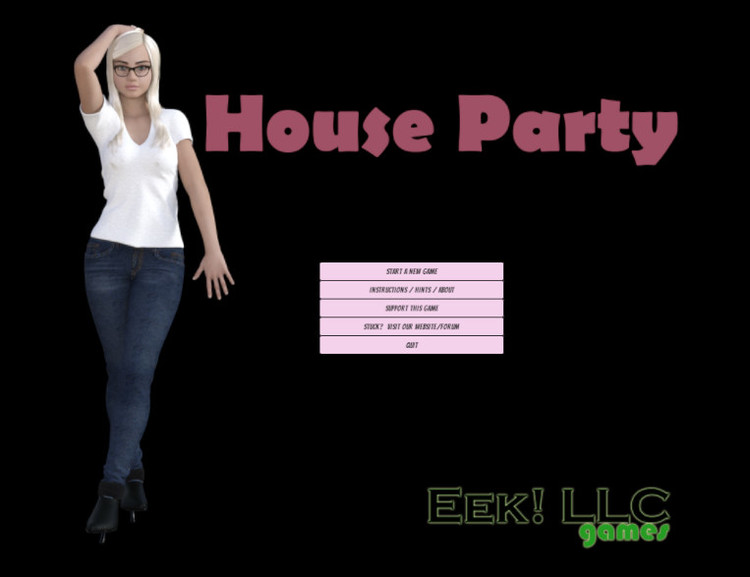 Adult Porn-Game
NFO
Updated: 07-September-2018
Genre: 3D, ADV, Striptease, Simulator,Eek Games, All sex,Animation
Censorship: None
Developer / Publisher: Eek Games
Platform: PC Win 64 And 32 Bit
Version: 0.11.1 (Beta)
Language: English
Size: 2.69 GB
About this game:
The House Party game (which is available for free right now on the site mentioned below) is similar to a lot of the browser-based games where your choices influence your success as you progress in the game, but it plays like a first-person RPG with interactive game models, characters, and physics, like the aforementioned Leisure Suit Larry. My inclination is to take these games in a much more raunchy direction than the LSL series however. The games will be ripe with foul language, nudity, and sex, but hopefully be just as funny and engaging. There isn't much of a story to play though right now, just a few objectives to complete while I work on the gameplay mechanics. There are multiple story-paths though and different outcomes based on your decisions.
Changelog House Party v0.11.1 (Beta)
v0.11.1
Here's House Party 0.11.0 Alpha! This is the first phase of introducing Madison's content, and includes her Smooth Operator and her Drunk and Disorderly Opportunities.
Smooth Operator comes with a unique element where completing it will actually unlock a special ability in which Madison can help you with any tanked relationships with the other characters. We think this is a really cool feature, and we hope you all like it too. It's the first official story ending that comes with a perk for the player… well other than getting lucky!
Madison's main story-line is all story-boarded and we've also added some new items to the game that will be used in her story, so for now you can check them out and ponder what we will do with them. You can also pick them up and throw them around for fun with the new improved hand mechanics. We will be spending two cycles on Madison, so 0.11.x will focus on just Smooth Operator and Drunk and Disorderly, and our 0.12.x cycle will bring her main story to the table.
On top of everything, there's been some major performance tweaks and optimization under the hood, so the game should be running better than ever. Initial internal tests were showing a 35% FPS increase!
Enjoy!
CHANGE LOG:
Added "Smooth Operator: Madison" Opportunity
Added "Drunk and Disorderly: Madison" Opportunity
Added over 70 (currently unvoiced) dialogues between Madison, Ashley, and Patrick.
Changed Madison's beginning dialogue.
Changed Katherine's Inspect text.
Added an in-game input mapper and controller support (Controller support not fully implemented)
Fixed hot tub fog leaking when disabling shadows
Added a Double sided dildo
Added a pink vibrator
Added a foam finger
Added new gazebo model
Added a bug lamp
Added garden paths
Moved the hot tub
Added new character specific "HD" lighting
Added new outdoor lamps
Added new gazebo rug
Added some peeps to the credits
Updated credits superusers
Fixed the brightness on the path shadowing
Fixed NPC collision issues in the backyard
Created and fixed blendshapes for Frank, Derek and Patrick
Created Penguin model
Fixed Madison skinning issue
Fixed Rachael shader issue
Vickie clipping issue fixed
Male penises recreated
Lighting Tweaks and Updates
Optimized lights and shadows system
Optimized Distance calls to exclude expensive square root functions
Enabled Multi-Threading for Graphics Jobs
Added new dialogues for when the player tries to speak to Madison when she's on her way to get Frank (who will then proceed to beat you up)
Fixed issues with the bathroom door and the LOCK function that would cut off some story segments.
Sexual acts will now initiate the Embarrassed state based on the exhibitionism personality trait, and always remove the state when the sexual act is complete
Beer pong balls now take into account a small amount of pre-throw momentum to make premature ej…throwing of your balls a bit more forgiving.
Beer pong balls can now be given a little bit of post-throw curvature. This is done by moving the mouse after throwing them (the window for doing this is very small).
Changed the crouch mechanic so it works while "soft" info is on the screen like quest notifications or game messages
Tied in a different hand cursor animation to indicate the brief window allowed for post-throw curvature.
Fixed an issue that was preventing the command console from referencing dialogue-only characters like "Phone Call"
The debug log will now show more information about event triggers that contain/execute more than one game event
Save games now have a timestamp automatically added to their label in the load game window
Minor typo corrections in the Story Editor interfaces
Sexual acts will now initiate the embarrassed state based on the exhibitionism personality trait, and always remove the state when the sexual act is complete
Beer pong balls now takes into account a small amount of pre-throw momentum to make premature ej…throwing of your balls a bit more forgiving
Beer pong balls can now be given a little bit of post-throw curvature. This is done by moving the mouse after throwing them (the window for doing this is very small)
Tied in a different hand cursor animation to indicate the brief window allowed for post-throw curvature. Still being tweaked
The player's memory has been upgraded via a limited time RAM DOWNLOAD offer. He can now remember up to 25 saved soirees
Fixed an issue that was preventing the command console from referencing dialogue-only characters like "Phone Call"
The debug log will now show more information about event triggers that contain/execute more than one game event
Minor typo corrections in the Story Editor interfaces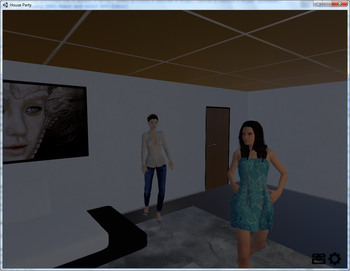 House_Party__v0.11.1___Eek__Games__.part01.rar
House_Party__v0.11.1___Eek__Games__.part02.rar
House_Party__v0.11.1___Eek__Games__.part03.rar
House_Party__v0.11.1___Eek__Games__.part04.rar

House_Party__v0.11.1___Eek__Games__.part01.rar
House_Party__v0.11.1___Eek__Games__.part02.rar
House_Party__v0.11.1___Eek__Games__.part03.rar
House_Party__v0.11.1___Eek__Games__.part04.rar
PREMIUM PROMO CODE +10% Keep2Share.cc & Fileboom.me