Four Elements Trainer – Version 0.6.01b (MITY) [2017]
NFO
Updated Date: 28 November, 2017
Genre: Interactive, Adventure, Sexy Girls, Small Tits,MITY, All sex, Blowjob, Titsjob, Sexual Training, Trainer, Parody, Avatar, Fantasy, Anal
Censorship: None
Developer / Publisher: MITY
Platform: PC / Windows
Version: 0.6.01b
Language: English
Four Elements Trainer is a massive undertaking set in the universes of Avatar: The Last Airbender and The Legend of Korra, and will be four complete games all united into one. Along the way, you'll find plenty of (fuckable!) characters, quests, stories, fights, and mysteries to unlock.
Book 1 is finised:
* Hunt. The way to unlock more risque activities with Katara is to bring meat and hides back to the villagers.
* Endorse Katara. This will not only unlock higher levels of sluttiness (after hunting enough to unlock said activities), but is also the key to multiple quests.
* Train. This will make hunting much, much easier.
* Favors. You may need to visit some individuals multiple times to unlock their quests.
* Non-linear. Everything is tied together. Don't expect to spend time only on one portion of the game and unlock that section – you'll need to think like a Waterbender, and make some ripples.
* Extra/hidden content. I'm not telling you! There's plenty in there though. Alright, I'll give you one. ONE. Visit the mine a bunch. THAT'S ALL YOU'RE GETTING OUT OF US.
INFO: Halloween themed easter egg when starting a new game, call the main character "jack"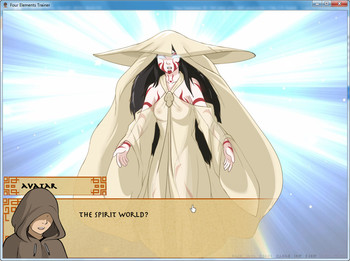 Download or WATCH ONLINE – 633.9 MB

Download or WATCH ONLINE – 633.9 MB