Damsels and Dragons [v0.9] [Amaraine Games]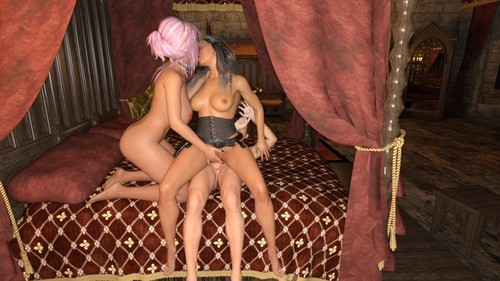 Adult PC Game
NFO
Updated: 16,March , 2018
Genre: 2DCG, Oral sex, Romance, Seduction, Amaraine Games,Male protagonist, Vaginal sex, Combat, Cosplay, Vaginal sex, Fantasy, RPG, Adventure, Group sex, Handjob, Harem
Censorship: No
Developer/Publisher: Amaraine Games
Version: v0.9
OS: Windows
Language: English
Description:
In Damsels and Dragons you play a man who is managing a group of female adventurers — 4 at first, but more as time goes on — forming parties, sending them on adventures, getting them magic items, etc.
Over time you will gain the affection of your adventurers, learn to cast spells, and engage in acts of lust and perversion.
Damsels 0.9 Changelog
New Content:
New Magic Item Types: Robes, Shields, Leather and Chain Armor are available and usable by appropriate characters.
New Character Class: The Heretic. The Heretic does some non-targeted healing through her damaging "Life Drain" spell, but also has the ability to Summon a Demon to replace a party member (including the heretic herself) for the duration of a combat.
Interactions with the worshippers of the snake cult of Seth are now scattered around the game, leading up to attacks on the Temple and the Decadent Camp.
UI Improvements:
All Classes now have Class help available from the Class help menu.
Trait Help is now divided into two sections, and is now in alphabetical order.
Auto combat is now available in the hills, and in the plains after day 30, allowing you to speed through easy combats. In auto combat all characters choose the first ability listed, which means for the most part that front row people hit things and back row people shoot things.
The scrolling list of combat activity now clears after a selection is made, making the information less of a wall of text.
Bug Fixes:
Fountain now properly lets you continue when your entire party has affection of 100 or greater.
Characters can no longer be asked to go in the brothel when they are already there.
Bypassing the Temple or Reaver Camp no longer allows one to circumvent the limit on adventure length.
Functionality Changes:
The likelihood of a particular type of magic item dropping is now linked to the number of classes that could use it, e.g. shields, usable only by two character classes, are less likely to drop than rings, which are usable by all but Barbarians.
Girls may now be asked to stop working in the brothel, although Promiscuous characters will resent it.
Energize no longer works on characters with more than 6 Restdays.
You can no longer pay a retention bonus to girls who are currently working in the brothel.
Balancing:
It is expected that the Heretic's summon ability will be of primary benefit to other classes that have survivability issues.

Download or WATCH ONLINE – 276.8 MB

Download or WATCH ONLINE – 276.8 MB