Behind the Dune – Version 2.07 [David Goujard]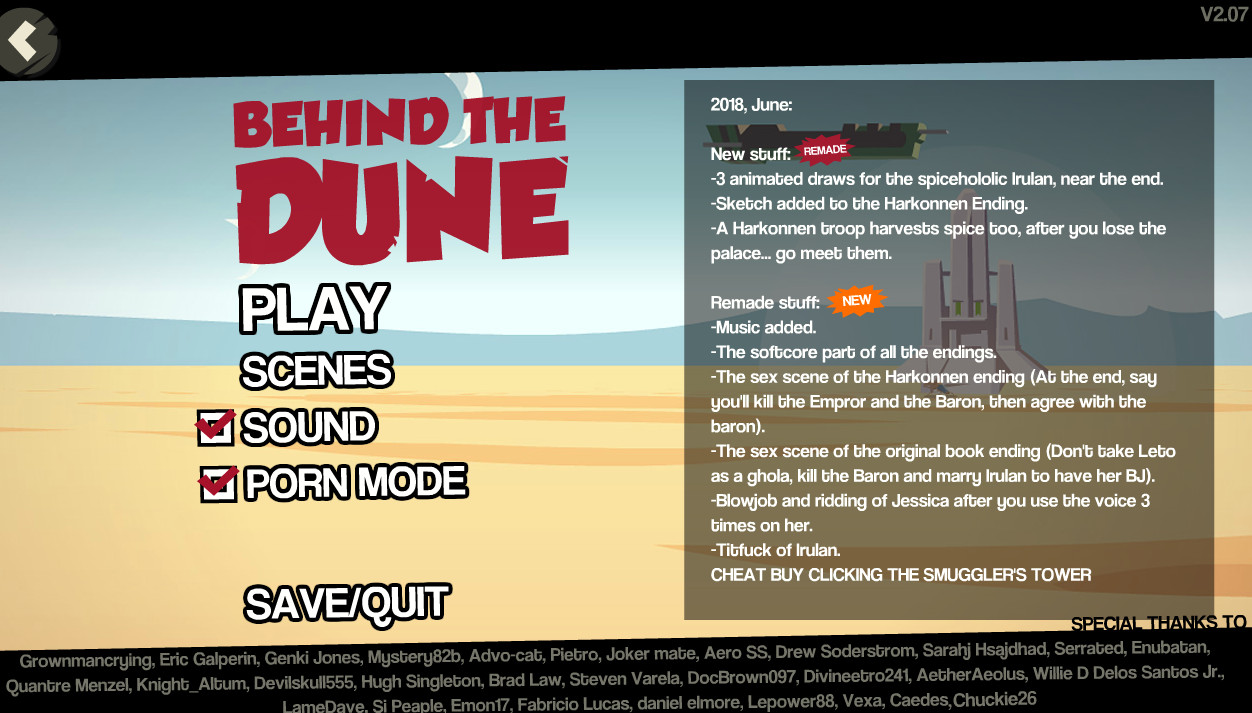 Adult Porn-Game
NFO
Updated: 27,June, 2018
Censorship : None
Genre : Flash Game, Visual Novel, Animation, Milf, Big Tits, Parody, 2D Art, Anal Sex, Threesome, Oral Sex, Intercourse, Titfuck, Orgy, Alien Sex
Developer / Publisher: David Goujard
Verion: 2.07
Platform: PC/Windows
Language: English
Size: 23 MB
Description:
Game "Behind the Dune" is parody of the epic science fiction novel and movie called "Dune" written and directed by David Luch. Set in the distant future amidst a feudal interstellar society in which noble houses, in control of individual planets, owe allegiance to the Padishah Emperor, Dune tells the story of young Paul Atreides, whose noble family accepts the stewardship of the desert planet Arrakis. As this planet is the only source of the "spice" melange, the most important and valuable substance in the universe, control of Arrakis is a coveted – and dangerous – undertaking. The story explores the multi-layered interactions of politics, religion, ecology, technology, and human emotion, as the forces of the empire confront each other in a struggle for the control of Arrakis and its "spice".
Change-log v2.7.0
NEW STUFF
-3 animated draws for the spicehololic Irulan, near the end.
-Sketch added to the Harkonnen Ending.
-After the Harkonnens take back Arrakis, their harvest troop will be there.
REMADE STUFF
-Legendary Music made by Stéphane Picq added!!!
-The softcore part (picture and text) of all the endings.
-The sex scene of the Harkonnen ending (At the end, say you'll kill the Empror and the Baron, then agree with the baron).
-The sex scene of the original book ending (Don't take Leto as a ghola, kill the Baron and marry Irulan to have her BJ).
-Blowjob and ridding of Jessica after you use the voice 4 times on her.
-Titfuck of Irulan.
Don't forget you can see the sexual scenes in the menu "SCENES", and also the "cheat" in clicking the smuggler's tower.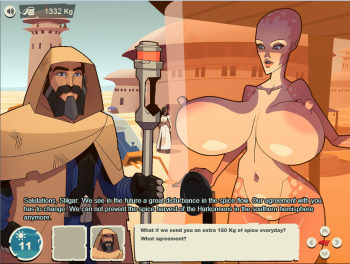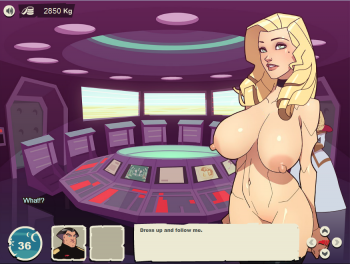 Behind_the_Dune_-_Version_2.07_David_Goujard.rar

Behind_the_Dune_-_Version_2.07_David_Goujard.rar