Anna – Exciting Affection – Version 0.9 (DeepSleep Games)
Adult Porn-Game
NFO
Updated: 31,March , 2018
Genre: RPG,3DCG,Big Tits, Anal,Big Ass,Adult Game,Porn Game, Sex, DeepSleep Games,Patreon Game,Handjobs, Blowjobs, Cumshots
Censorship: None
Developer/Publisher: DeepSleep Games
Version: 0.9
OS: Windows
Language: English
Size: 2.76GB
Description:
You will be playing the role of "Anna" and making decisions in her life as she will discover herself through the journey. There will be a main story line with different outcomes depending on your choices, as well as lots of side quests.
Change-Log v 0.9:
I'm sorry for a little delay.
Final scene list for this update are Clothing shop, Morning with Alfred, Bar Scene, Carl's office and a Yacht scene as well as smaller scenes for different routes at the Office with Diane (which will lead to more stuff in next update) and Emily (who will join Anna for a dinner at Ethans place) as well as small scenes with Andrew and a surprise character in the end.
0.9 update has more than 200 new renders and 4 animations.
Some features I would like to remind are:
Shift or Right mouse button – hide the text box
You can use the mouse :
To skip text, you can use "W."
There is a map in the game folder to guide you through
And Save at the 10th slot that starts at the beginning of this update, right after Timothy's scene.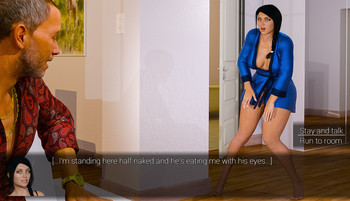 Download or WATCH ONLINE – 750.0 MB
Download or WATCH ONLINE – 750.0 MB
Download or WATCH ONLINE – 750.0 MB
Download or WATCH ONLINE – 571.7 MB

Download or WATCH ONLINE – 750.0 MB
Download or WATCH ONLINE – 750.0 MB
Download or WATCH ONLINE – 750.0 MB
Download or WATCH ONLINE – 571.7 MB