Acting Lessons Episode 4 + Extra Material (DrPinkCake)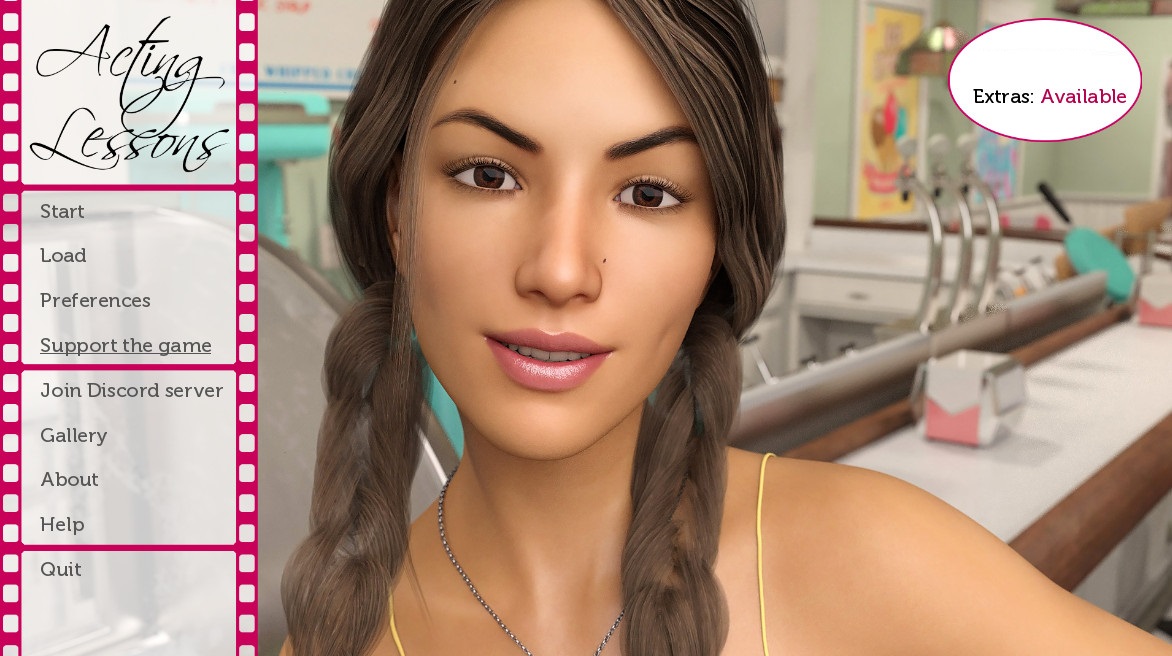 Adult Porn-Game
NFO
Update: 26-July-2018
Genre: 3dcg, creampie, male protagonist, oral sex, DrPinkCake Game,vaginal sex animated, big tits, cheating, group sex, handjob, masturbation, MFF
Censorship: None
Developer/Publisher: DrPinkCake
Censorship: None
Version: Episode 4 Extra Materials + Walk-Through
OS: Windows,Linux
Language: English
Size: 1.71 GB
Description:
The story centers around you, a middle-aged man with a background in cryptocurrency trading, telling the story of how you met a girl named Megan during a life changing day.
Megan is a young aspiring actress down on her luck and in desperate need for help.
Will you be there for her when she needs it the most and help her turn the tide? Will you be able to win her heart?
Gameplay:
The gameplay is decision based. The player can be named to your liking and early on you get to select to identify with one out of three different traits (Athletic, Charismatic or Well-read).
The traits will open up different options during the game and can lead to different reactions to your choices and affect how characters perceive you.
The relationship stats are hidden and in the end of each episode a summary of choices and characters feelings towards you is presented.
The primary focus of the game is the blossoming romance between you and Megan.
However, as the story unfolds there will be other characters that are eligible for romantic encounters as well.
You may also choose to form a strong bond of friendship with your best friend Liam.
The game features music and sound effects.
Change-Log: v0.4.0
Added Episode 4 that includes:
– 788 renders
– 3 special renders (Extra material)
– 29 animations (Extra material)
– 15 new songs (Episode 4)
– 5 new sound effects
— Regarding old save files–
If you saved your game at the prompt (or later) in the end of v0.3.0 you can continue playing without any issue.
— General changes —
– Replaced music with the wrong type of license. Every song is now Creative Commons for commercial use and the creators are credited properly within the game.
– +$20 patron versions are now distributed pre-patched with Extras.
— Notes to Android users–
Old saves from v0.3.0 are located in this folder "Android/data/com.android.actinglessons". Please note that in order to use your old save file you must first copy your old save files from v0.3.0 to your computer, then uninstall v0.3.0 and install v0.4.0 and finally paste your save files into the same location as before ("Android/data/com.android.actinglessons").
Changes in Episode 1-3:
The text and grammar have been improved thanks to my proofreader Ignatz.
Reproduced a subset of renders for Episode 1 and 2 in full HD.
Fixed an important bug in Episode 3.
If you rejected Melissa, during the morning she wasn't rejected according to the game. Although, the story still will make sense, this wasn't the intention.

Acting_Lessons_Episode_4___Extra_Material_.part1.rar
Acting_Lessons_Episode_4___Extra_Material_.part2.rar
Acting_Lessons_Episode_4___Extra_Material_.part3.rar

Acting_Lessons_Episode_4___Extra_Material_.part1.rar
Acting_Lessons_Episode_4___Extra_Material_.part2.rar
Acting_Lessons_Episode_4___Extra_Material_.part3.rar