A Wife And Mother [v0.02] [Lust & Passion]
Adult PC Game
NFO
Release Date: 01,Februaryr, 2018
Genre: RPG,Lesbian, Voyeurism, Exhibitionism, Lust Passion,Group Sex, Domination, Submission, Anal, Interracial, Corruption,
Censorship: None
Developer/Publisher: Lust & Passion
OS: Windows
Version: 0.02 (First Release)
Language: English
Description:
My game is a choice-based visual novel, where you take the role of Sophia Parker, a happily married middle-aged woman and mother of a son and daughter. Due to her husband's new job offer she just moved with her family from their sleepy, cold, small town to San Alejo, a hot megacity by the sea. And not only the city is bigger but also their new house and backyard.
Sophia is a high school teacher and former college lecturer. She comes from a wealthy academics family. In this new town she will be gradually confronted with many delicate situations, both familial and extra-familial, full of temptations and taboos, accompanied by the mother of all questions: what's really right and what's really wrong? An odyssey of emotions.
So, will she stay the good, faithful wife or will she fall into all the temptations and become a filthy wh**e soon? Some decisions maybe have to be made unwillingly.
And in the end she has to ask herself… how far can she go.
​
Change-Log V0.02 :
Content: 598 new renders spread over 11 new scenes!
All together vers. 0.02 contains 1538 renders and finishes playable Day 3 of about 30.
I'm very sorry for the delay but like I've already said, the update turned out bigger than expected. And I've also tried my best to make all the scenes look as great and aesthetic as possible what is very important to me. Consideration should also be given to releasing next updates for a playable half a day instead of a whole, what would reduce the waiting time for new releases.
Note: The language correction is currently in progress! I only managed to correct the intro part till the backyard visit (Day 1) yet.
The completely corrected version will be released later.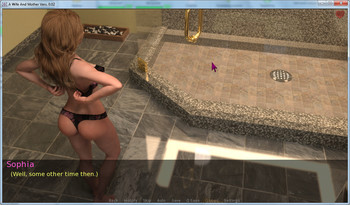 Download or WATCH ONLINE – 750.0 MB
Download or WATCH ONLINE – 750.0 MB
Download or WATCH ONLINE – 680.1 MB

Download or WATCH ONLINE – 750.0 MB
Download or WATCH ONLINE – 750.0 MB
Download or WATCH ONLINE – 680.1 MB